FreshStart Smoking Treatment Class
June 14, 2021 @ 2:00 pm

-

3:00 pm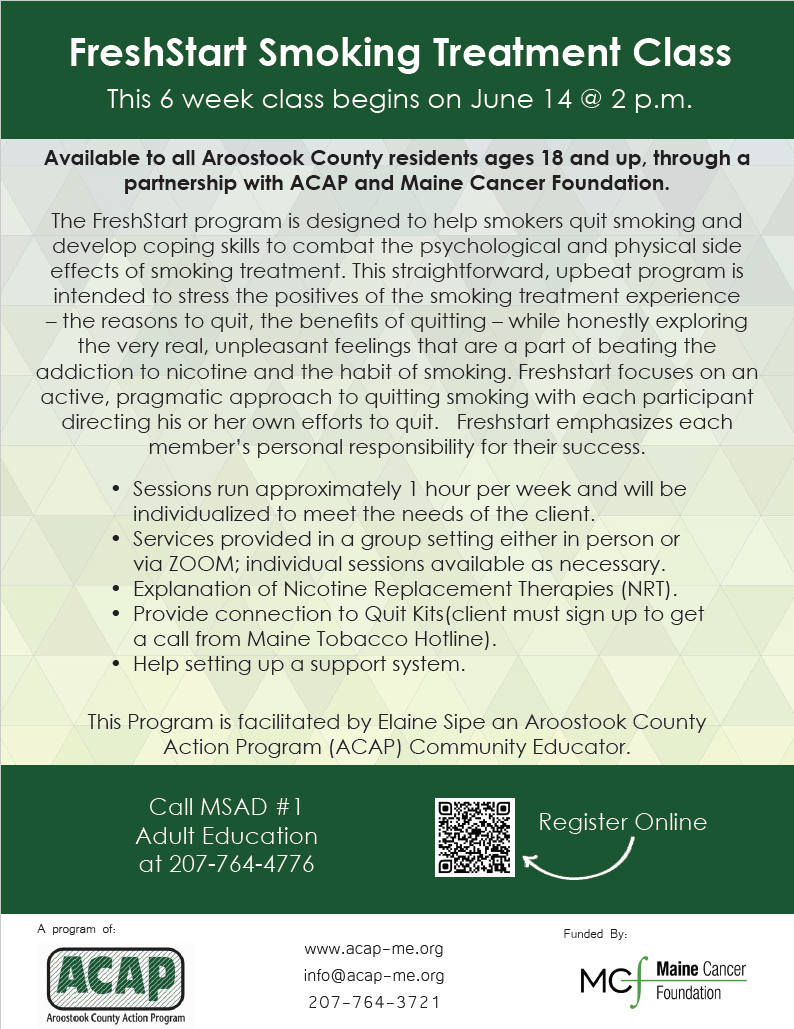 Monday, June 14, 2021 at 2 PM EDT – 3 PM EDT
Public

 

Anyone on or off Facebook
FreshStart Smoking Treatment Class
This 6 week class begins on June 14 @ 2 p.m.
The FreshStart program is designed to help smokers quit smoking and develop coping skills to combat the psychological and physical side effects of smoking treatment. This straightforward, upbeat program is intended to stress the positives of the smoking treatment experience – the reasons to quit, the benefits of quitting – while honestly exploring the very real, unpleasant feelings that are a part of beating the addiction to nicotine and the habit of smoking.
Freshstart focuses on an active, pragmatic approach to quitting smoking with each participant directing his or her own efforts to quit. Freshstart emphasizes each member's personal responsibility for their success.
• Sessions run approximately 1 hour per week and will be individualized to meet the needs of the client.
• Services provided in a group setting either in person or via ZOOM; individual sessions available as necessary.
• Explanation of Nicotine Replacement Therapies (NRT).
• Provide connection to Quit Kits(client must sign up to get a call from Maine Tobacco Hotline).
• Help setting up a support system.
This Program is facilitated by Elaine Sipe an Aroostook County Action Program (ACAP) Community Educator.
Available to all Aroostook County residents ages 18 and up, through a partnership with ACAP and Maine Cancer Foundation.
Call MSAD #1 Adult Education at 207-764-4776
Funded By: Maine Cancer Foundation