The Center for Community Health Education at Houlton Regional Hospital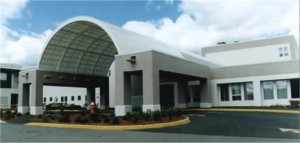 The Center
The Center for Community Health Education (CCHE) is a multifunctional, education center located at Houlton Regional Hospital.  Dedicated to the Southern Aroostook Community in October of 1997, the mission of the CCHE is to provide comprehensive education programs, that promote health and wellness.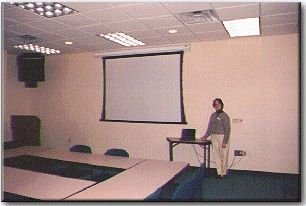 The Center for Community Health Education is used by a variety of people, for a variety of purposes. The Community Education Program at Houlton Regional Hospital provides a wide range of health education and support programs to the community.  The hospital also uses the facility to provide continuing education for physicians and staff.
The facility is also available for use by community organizations and businesses.  Having the ability to seat 120 people with the most up-to-date audiovisual system, The Center for Community Health Education is well suited for seminars and meetings.
The Business Community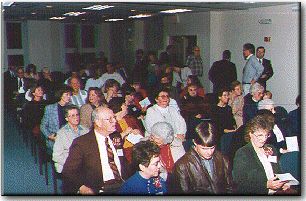 The Center for Community Health Education, offers the most state of the art audiovisual technology in Northern Maine.  Speakers won't need to bring in overhead projectors and screens for their business presentations.
The plug and play ports throughout the center support your personal computer or the laptop computer available at the center.  Your PowerPoint TM presentations are simplified.  On-line access is available if your business presentation is already on the internet.
Using in- house television circuits , you may watch live broadcasts from all rooms in the center.  Or bring in your presentation on tape and once it's loaded into the production room, your presentation can be controlled with hand held remotes.
Facilities & Rates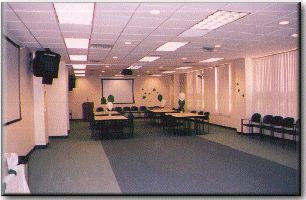 There are three meeting rooms at The Center for Community Health Education (CCHE) that can be used separately or in combination. The room seating can be organized in a variety of styles, either with or without tables, according to your needs.
Organizations and private individuals may use the rooms at a nominal fee.
Approximate seating capacity and room use fees are listed below. The rooms are charged by the hour. Tax-exempt and charitable organizations, providing a copy of their 501c3 letter, may use the rooms at a reduced rate of $10.00 per hour/per room.
Approximate Seating Capacity &  Room Use Fee
Lecture Style
(chairs w/o tables)
Student Style
(chairs w/ tables)
Charge Per
Hour
Room 1
30
20
$35
Room 2
46
30
$35
Room 3
35
25
$35