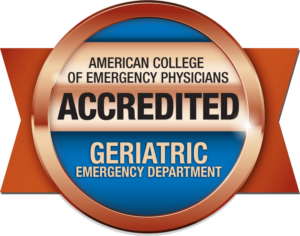 The American College of Emergency Physicians (ACEP), with support from The Gary and Mary West Health Institute and John A. Hartford Foundation, has launched the Geriatric Emergency Department Accreditation (GEDA) program to recognize those emergency departments that provide excellent care for older adults.  Houlton Regional Hospital's CEO, Shawn Anderson was notified that Houlton Regional Hospital's Emergency Department had achieved the bronze standard— Level 3 GEDA accreditation.
According to Anderson, "GEDA requires that we conform to high-level Physical Environment Standards to ensure that Geriatric patients are safe while receiving care in our ED, it certifies that we employ consistent Communication Tools to ensure that our Seniors hear and understand the information we're sharing in the best possible way, and it helps us address the uniqueness of Senior Pain by ensuring that we're analyzing and treating senior pain via best practices." He also states that, "GEDA Certification is granted at several levels – Our Bronze Certification is just the start of improvements we'll be working on. We are always seeking improvement initiatives, and this is just one more way that we can assure our Seniors that we are meeting them where they are at and are sensitive to their specific needs."
Dr Thomas Dancoes, Emergency Medicine Director of Houlton Regional Hospital shares, "Populations around the world are living longer now than ever before, and in the United States it is estimated that 10,000 Baby Boomers are turning 65 every day. The demographic shift brings challenges to healthcare systems, as older adults visit to Emergency Departments are at comparatively higher rates than non-seniors. They often present with multiple chronic conditions and suffer from complex social and physical challenges." Dancoes shares he "couldn't be prouder of the HRH staff including the Nurses, NP's, PA's, and Physicians, along with the Hospital Administration who, by supporting the effort demonstrated a commitment to quality care of our older adult population." He also notes that, "Houlton Regional Hospital was the first in the State of Maine to earn this accreditation."
In conclusion, CEO Anderson expresses, "This is an important journey for Houlton Regional Hospital. Our Seniors deserve to know that the care they receive will be customized to them in a variety of ways, including by virtue of their age. In many ways, for me as the Hospital's CEO, it's about making a commitment to the Seniors in our service area that the care we provide is nothing short of customized to them and is the exact care I would want for my very own senior-aged parents if they were to be our patients."
About Houlton Regional Hospital
Founded in 1972, Houlton Regional Hospital is a critical access hospital serving nearly 15,000 people in the Southern Aroostook region. The hospital is licensed for 25 Acute-Care beds and employs over 400 people, making it the region's largest employer. Houlton Regional provides a full complement of Medical and Surgical services and is deeply committed to delivering exceptional care by compassionate people.