For the past nine months, Houlton Regional Hospital (HRH) has been undergoing a major upgrade to their Electronic Medical Record (EMR) to a new platform, Meditech Expanse.  Work on the new electronic record began in January 2022 and is very close to completion.  The new EMR will allow for better workflow and exchange of information between the hospital and the Houlton Regional Hospital Outpatient Physician Office practices.  It will also feature a new and more robust Patient Portal.
"This is an exciting time for our organization", states Shawn Anderson, CEO of Houlton Regional Hospital.  "This has been in the planning phase for about 5 years now.  The new record will improve our workflow on many levels and will help us live up to our mission of providing safe, compassionate, exceptional care in a much more coordinated way.  This new EMR will, for the first time, allow for every single patient interaction from anywhere within the HRH hospital system to be integrated into one single patient record – thus creating a fully-integrated medical record for HRH patients."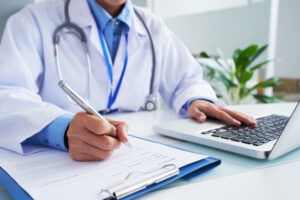 The new electronic record and the associated Patient Portal are schedule to be up and running on October 1st.  Gina Brown RN, COO and Project Sponsor states, "We ask that our patients and their families be patient with us during that time.  We anticipate that there may be some modest delays during first few weeks of implementation, as our staff learns to navigate the new electronic medical record system completely."
Houlton Regional's new Patient Portal will be accessible via any mobile device or desktop computer and will give patients and their families easy, secure access to their health information.  In addition to being able to use the Portal to access provider notes and test results, the expanded Portal will also allow patients to sign consent forms, complete pre-appointment questionnaires, update insurance information, addresses and phone numbers, medications, and other important information – all before arriving for their scheduled appointment.
Patients should be advised that information located on the current Patient Portal will not carry over to the new Portal.  Patients who are users of the current Portal will be given the opportunity to download their data to their own electronic device for safekeeping.  Only medical information generated on or after October 1, 2022 at Houlton Regional Hospital will be viewable in the new Patient Portal.
Tammy McLean, Information Systems Manager at Houlton Regional Hospital, says "the Information Technology Staff is prepared to help patients download their data to a thumb drive, USB device or their personal computer.  Patients who would like to retain a copy of their current Portal data are encouraged to contact Houlton Regional Hospital's Information Systems Department at (207) 521-2514 or visit the hospital website at www.houltonregional.org for assistance.
The current Houlton Regional Hospital Patient Portal will remain "live" until January 2023 to allow patients time to retrieve any Portal information they would like to retain.