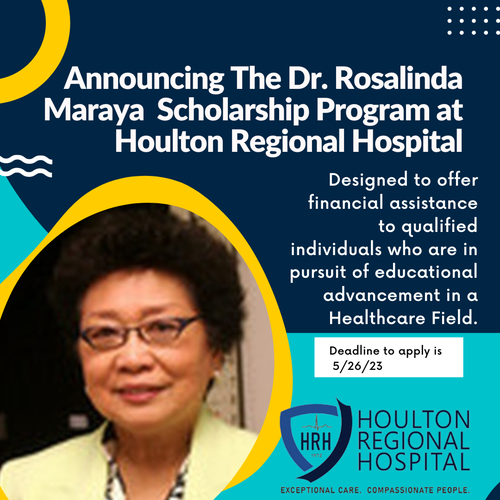 Applicants
The Dr. Rosalinda Maraya Scholarship Program at Houlton Regional Hospital (HRH) was designed to offer financial assistance to qualified individuals who are in pursuit of educational advancement in a Healthcare Field. The following will explain the scholarship details, forms needed and deadlines to return the application, along with additional program information.
Eligibility
Eligibility to apply for The Dr. Rosalinda Maraya Scholarship is open to any graduating high school Senior graduating from any greater Houlton area high school.
Selection Committee
The Selection Committee is comprised of members of the Medical Staff and Administration at HRH.
Criteria
The Committee evaluates candidates on the basis of the applicant's: articulation of their plan to attend a post-secondary institution of higher learning in a Healthcare field of study, academic performance as shown by high school records, extracurricular activities and evidence of strong character and motivation as exhibited in the student's life outside of school.
Required Forms
The Committee will review the confidential application of each applicant. To be considered the application must contain ALL the following:
 The HRH Scholarship Application-the application must be typed
 Transcripts of high school grades to include most recent grades
 One Letter of Recommendation-completed by guidance counselor, other school official or present/past employer
Completed applications and files should be mailed, returned in person, or emailed to:
The Dr. Rosalinda Maraya Scholarship Program
Houlton Regional Hospital
Attn: Trudy Rairdon
20 Hartford St., Houlton, Maine 04730
Trudy.Rairdon@hrhospital.org
Electronic applications can be found by clicking here.
Fill out the form online, then save or print it.
You may also request a form by emailing
Trudy.Rairdon@hrhospital.org
Application Deadline
The application deadline is the close of business on Friday, May 26, 2023. Incomplete files or those received after the deadline will not be considered.
Amount & Payment
One one-time financial scholarship of $1,000 will be awarded per year. The award will be paid directly to the scholarship recipient's College or University upon successful completion of the first semester and proof of enrollment in the second semester.
Announcement
The Recipient of The Rosalinda Maraya Scholarship will be notified on or before June 1, 2023